Rescuing backyard fruit since 2012
How many different fruit trees are hidden away in Wellington backyards? The fruit pickers of Community Fruit Wellington might be the best people to ask – they've been rescuing backyard fruit since 2012. 
"Walking past on the streets, you wouldn't know what is at the back of properties… hidden treasures that are locked away that we get the privilege of discovering and sharing in the bounty," says Manuela Fletcher, Community Fruit Wellington. 

"There is so much fruit, beautiful fruit – organic. It's unloved, unused, unwanted, going to waste. There is no need for that when so many people are in need of help." 

At Kaibosh, our relationship with Community Fruit is quite special and one we are incredibly grateful for. They have been supporting Kaibosh for ten years. Thousands of kilos of fruit and over 1000 jars of preserves is donated to Kaibosh each year, which we share with the community. 
Sharing their backyard bounty allows property owners to be part of building local kai resilience. Instead of leaving fruit to rot or be wasted, Community Fruit ensure that the donation of fruit is shared with people in the community who need a little extra help via Kaibosh and the many community groups who receive Kaibosh kai.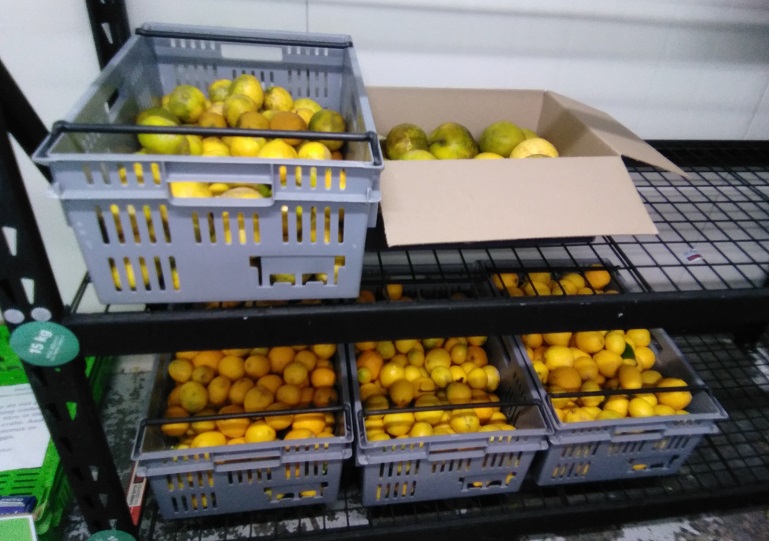 Another busy year
In the past year, Community Fruit Wellington has rescued fruit from more than 40 backyards in 16 suburbs across the Greater Wellington Region – from Newtown and Island Bay, to Eastbourne, through to Upper Hutt, Kāpiti and Ōtaki. On busy picking weekends they deliver hundreds of kgs to our Kaibosh Hubs in Paraparaumu, Petone or Wellington. Our teams then sort, pack and distribute it to 140 partner charities who currently receive food from Kaibosh. Community Fruit estimate their volunteer crews have put in around 1400 volunteer hours in the past year over their 2021-2022 season, picking fruit and making preserves.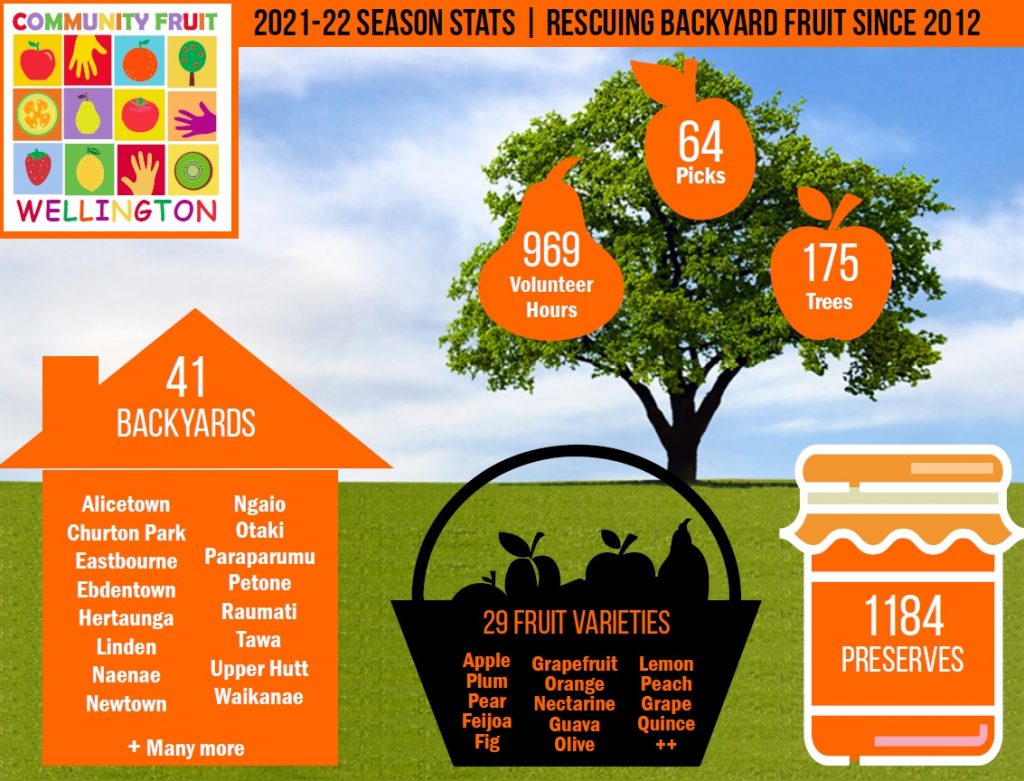 Not only does backyard fruit picking help support Kaibosh to provide food to the community, but it reveals the diversity of fruit grown right here in Wellington. 29 varieties were picked by Community Fruit in the 2021-2022 year… from heirloom apples, to pears, figs, guava, limes, oranges and lemons, quinces and even olives. Many of these won't be found on a typical supermarket shelf! Community Fruit say that many property owners with old fruit trees don't always know what to do with them, and they are able to help them with tips about the fruiting trees and ways to use the fruit. 
"We share knowledge with them, they share their bounty with us, and we share it with the community."
The diversity of fruit also means Community Fruit are becoming known for their interesting and delicious jams, jellies, chutneys and cordials – with some made specially to sell for fundraising. Some of the funds raised are also then donated back to Kaibosh to help us upscale and improve our three sites.
Thank you Community Fruit! You are amazing!

Look for Community Fruit

Wellington

at a

food

market

or fair

near you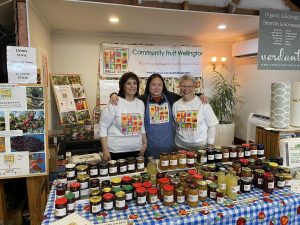 Can you donate surplus backyard fruit?
If you have surplus fruit on your trees and would like to share it with the community, get in touch with Community Fruit Wellington
---
Community Fruit Wellington is part of the Community Fruit Harvesting network of backyard fruit rescuers in the North Island
All images used with permission, CC Community Fruit Wellington