Corporate partnership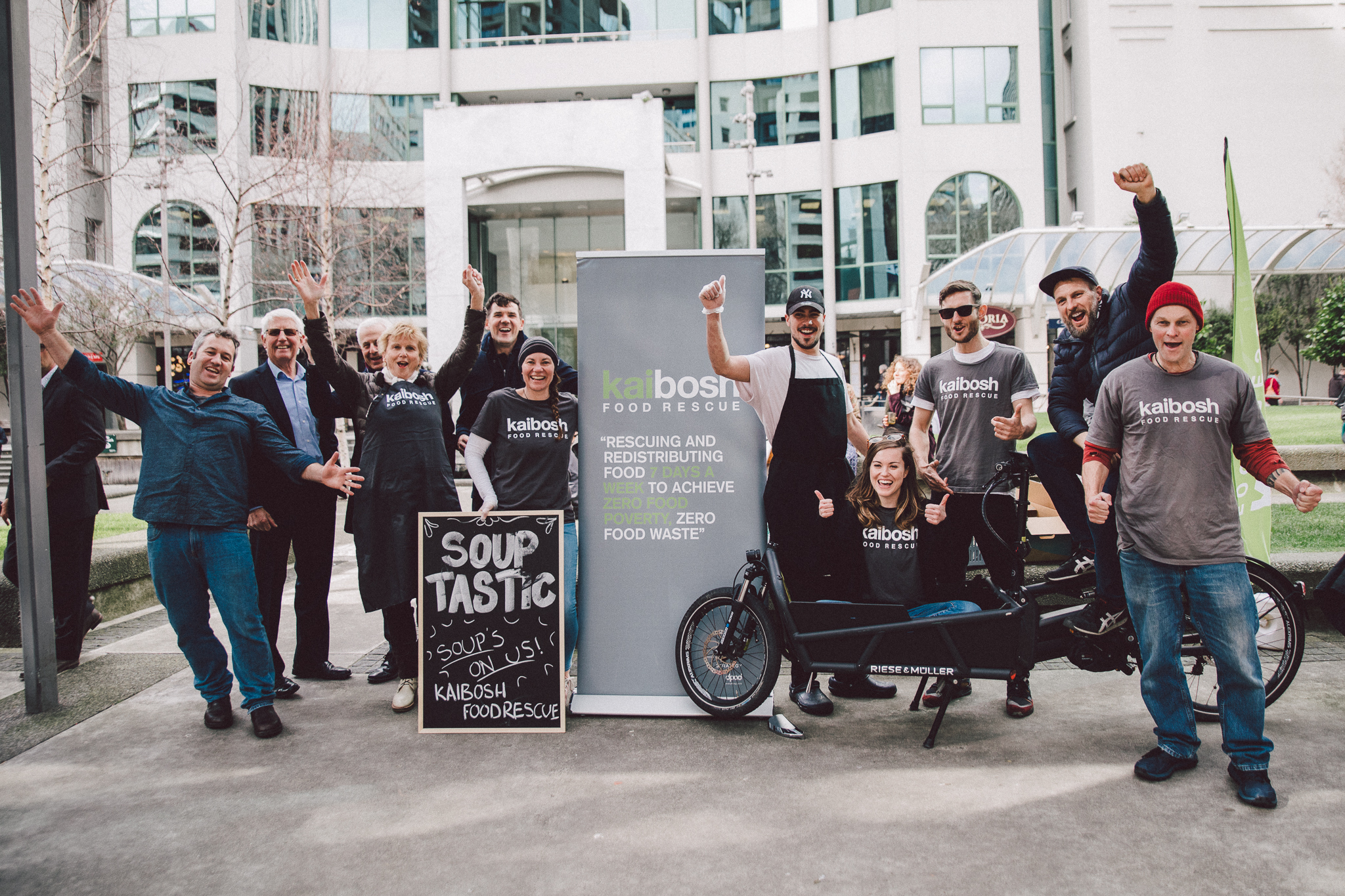 There are many ways your business can support our work, helping to make a real difference in your community and environment.
Events
Supporting our events throughout the year is a great way you can get involved!
Here's a list of our regular events:
Make a Meal in May (May)
Our annual fundraising campaign, Make a Meal in May sees businesses all over Wellington, the Hutt Valley, Kāpiti and Horowhenua get involved! Get together with your workplace for a meal and each donate to Kaibosh what you would have spent going out for a meal.
All Taste, No Waste (August)
Our Wellington on a Plate event, All Taste, No Waste is an annual culinary extravaganza of unloved, overlooked and neglected ingredients. Each year we team up with a top local chef who leads a team of next generation chefs from WelTec. The multi-course menu is created from commonly ignored and underappreciated ingredients, featuring fresh ideas on minimising food waste.
Spring for Kaibosh (September)
Our annual fundraiser at the Southern Cross. A musical extravaganza featuring Kiwi bands and DJs with all proceeds going to help rescue and redistribute food in Greater Wellington.
Quiz Night for Cheats (December)
An annual quiz night held at San Fran, at Quiz Night for Cheats you don't need to know the answers – you can cheat your way to victory by buying answers to the questions you don't know, and all for a great cause. Enter a workplace team into our quiz fundraiser, have a fun night out with your employees and support Kaibosh!
Kegs for Christmas (December)
Every December Garage Project donates 12 kegs to 12 different Wellington bars. All of the proceeds go to Kaibosh. Head along to participating venues, buy a beer and spread the cheer.
Donating food
By donating rather than throwing out quality surplus food from your business, you can help those who need it most while cutting your costs and your impact on the environment. Here's more information on the types of food we can rescue.
Regular giving
Encourage your staff to get involved as regular donors (Food Rescue Heroes), either by direct AP or payroll giving. Regular giving allows us to plan for the year and have reliable income. When a business gets behind us it helps us so much more!
Volunteering
Kaibosh relies on support from over 200 volunteers to help rescue and redistribute food. By encouraging members of your team to volunteer with Kaibosh they can help to make a real difference in their local community. We also have opportunities for skilled volunteers. Find out more!
Sponsorship
We have a number of opportunities for event sponsorship. Please get in touch for more information!
We'd love to talk about how your business can get involved with Kaibosh.