Give a Meal in May
This year we're doing May a little bit differently.
Donate now
It's May and normally we'd be asking you to Make a Meal for Kaibosh's annual fundraising appeal. Getting together for a meal at home or work with friends, whānau or colleagues, donating to Kaibosh what you would have spent on a meal out.
But we're living in un-normal times. Due to the COVID-19 crisis we can't get together for big meal parties. Chances are, you're also sick of your own cooking, or the culinary skills of your bubble buddies.
So this May we're doing things a little bit differently and asking you to simply Give a Meal in May by donating the value of a meal out to Kaibosh.
For every $20 donated, Kaibosh can provide 29 meals to those in our community who need it most.
As an added bonus, everyone who Gives a Meal in May will go into the draw to win a month's subscription to My Food Bag!
Why Give a Meal in May?
Kaibosh's work is good for our community and our environment. Every donation made in May helps us to reduce food poverty and food waste.
Due to the effects of COVID-19, the amount of people in need is greater than ever. Your support can make a real difference to those currently struggling to put food on the table.
Got extra dollars in your account because of lockdown? We'll turn them into healthy food for people in need.
A little goes a long way. $20 provides 29 meals.
You could win a month's subscription to My Food Bag!
People are hungry in our communities, but you can do something about it.

Give a Meal in May, donate to Kaibosh, and make sure Kiwis have enough good food to eat.
Donate now
How will my donation help?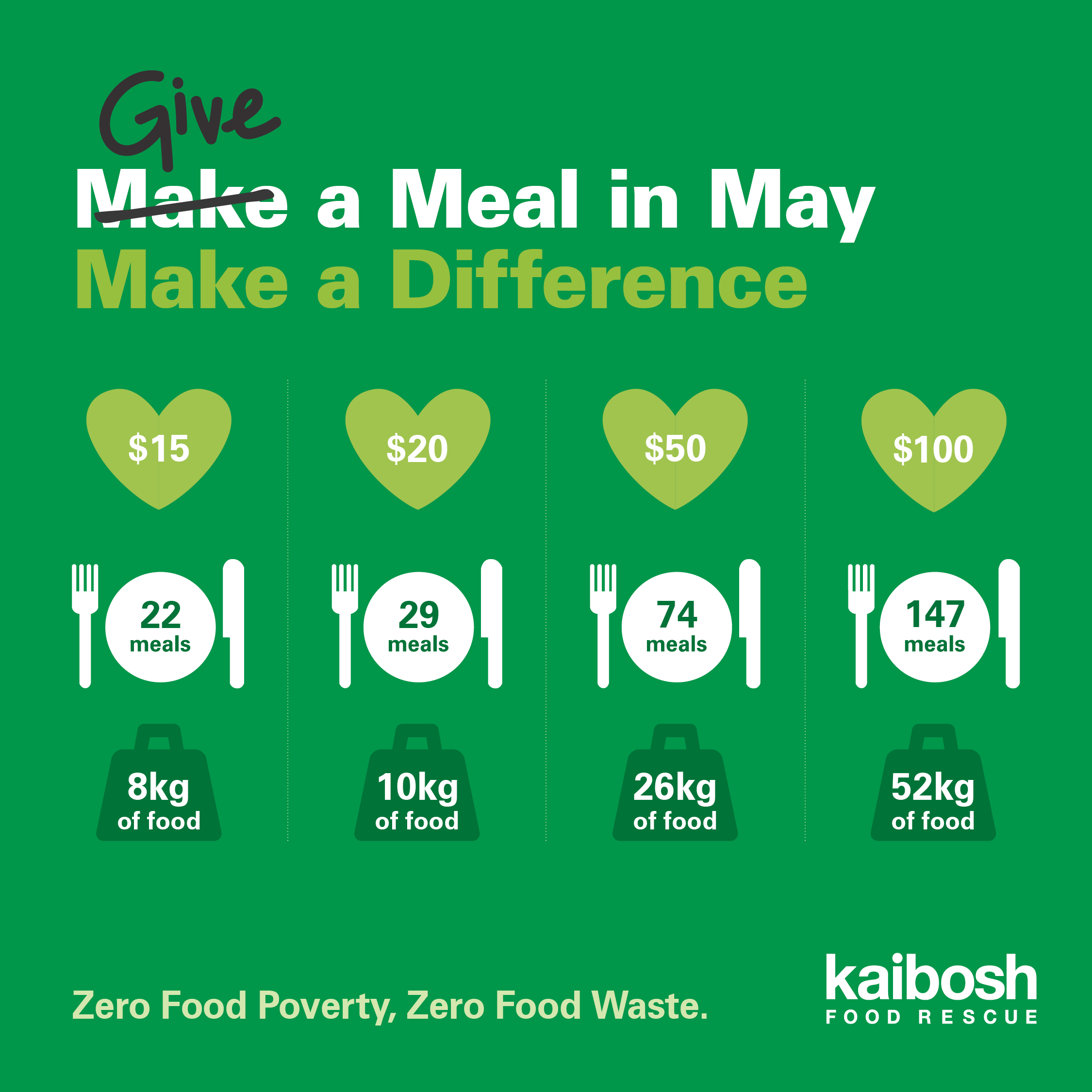 All funds raised during Give a Meal in May go toward helping us provide quality surplus food to those in need in Wellington City, the Hutt Valley, Kāpiti and Horowhenua.
Donate now