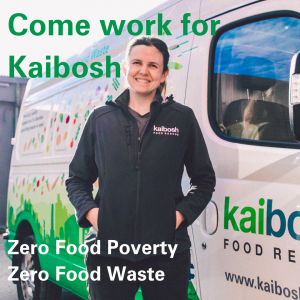 Would you like to work to minimise food waste and alleviate food insecurity in Wellington?
Come work for Kaibosh – New Zealand's first dedicated food rescue organisation!
We are currently looking for a permanent Saturday Food Rescue Driver for our Wellington base who may also be available to cover occasional weekday and Sunday shifts.
Saturday driver shifts are from 9.30am to 3pm. You will also join our pool of drivers who may be contacted if our regular drivers are sick, or on leave, on both weekdays and/or Sundays (There is no obligation to fill-in – it is only if you are able.)

This key front-line position ensures that quality surplus food from our food donors is collected on time and delivered to the Kaibosh base where it is then sorted for quality by our teams of amazing volunteers and provided to those in our community who need it most. In addition to driving there will be other duties on-site including operational or administrative tasks as required by the operations manager.
The role also focuses on providing a high level of customer service, engagement with food donors and sharing our ethos with them and being a public representative of Kaibosh.
We are looking for someone whose values are aligned to those of Kaibosh, who demonstrates a positive and happy approach to their work and who will provide the prompt, reliable and friendly food rescue service that our food donors and volunteers expect from us.
Kaibosh is a Living Wage employer, founded in 2008 in Wellington.
A full job description is available upon request. This role is also advertised on DoGoodJobs.
HOW TO APPLY
Please apply in writing to Martin Andrews, Wellington Operations Manager, via email: martin@kaibosh.org.nz