How to host a meal
1. Grab your Make a Meal in May starter kit
We've put together a downloadable pack that will make hosting a meal as easy as pie. It includes:
Make a Meal in May poster
Name cards for your guests
Welcome sign
Conversation starters
Fun food facts
Donation signs
Photo sign – share your MMM photos with us on social! #makeamealinmay
Competition entry form
2. Get your friends or workmates together
Write them an email, send them a text, give them a call, or make a Facebook event.
Here's a Facebook event photo!
3. Tell them about Make a Meal in May
Here's an easy description:
"Let's make a meal with a difference for Kaibosh's annual fundraising appeal. It's simple – we'll share a meal and then each donate to Kaibosh what we would have spent eating out, helping to put food on the table for people in need."
You can find more information about Make a Meal in May here.
4. Plan your menu
Will you cook for everyone or will it be a potluck meal? If you have the space, maybe you could all cook together…
We've collected a few of our favourite recipes that work well for groups – have a look below for inspiration.
Starters & sides
Mains
Dessert
5. Set up a donation box
Have a donation box set up for your guests. Pop it on the table, or by the door and guests can donate whilst dining, or on their way in or out.
6. Make your meal, capture the moment, sit down and enjoy!
Take a photo or video of your meal with friends or workmates to share later on social media. Then sit down and enjoy the yummy food!
7. Complete and send in your competition entry form
Everyone who takes part in a meal and makes a donation to Kaibosh can enter our competition to win a month's My Family Bag subscription from My Food Bag, valued at $679.96.
Get everyone at your meal to add their details to the competition entry form, scan or take a photo of the form and email it to Kaibosh to be in to win.
8. Share what you've achieved
After you've had a lovely meal, count up the funds donated and share the total with everyone who came along. You can use our handy infographic to work out how many meals this will enable Kaibosh to provide.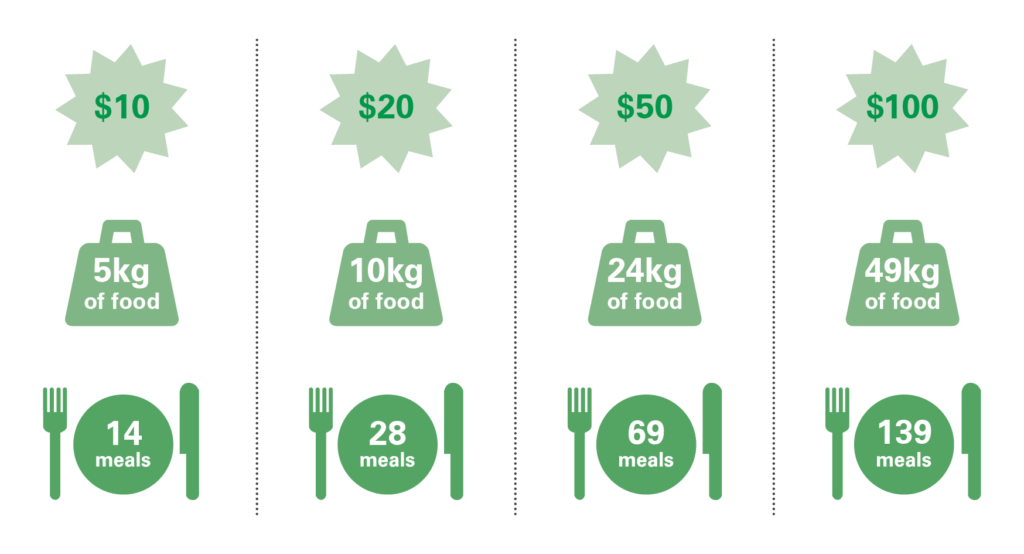 Share the meal photos or videos on social media with the hashtag #makeamealinmay and tag your friends!
9. Make your donation
You can donate the funds raised to Kaibosh by:
Online banking


Account name: Kaibosh Food Rescue
Account number: 38-9008-0520415-02

Please include your name or company name as a reference for the donation.
So that we can provide you with a tax receipt, please email us with the following information:

Name of the company or individual making the donation
Email or postal address
Date and amount of donation

Cheque


Please make cheques payable to Kaibosh and post to PO Box 9264, Marion Square, Wellington 6141.
10. Pat yourself and your friends on the back for Making a Meal and Making a Difference!